In 2016, a quarter of French companies admitted voluntarily that their business had a significant impact on the environment by generating waste causing air and soil pollution, using resources that were often non-renewable, and producing products of sub-optimal quality and sustainability, all of which were driven by critical economic and financial considerations.
Today, environmental protection in its broadest sense is an issue for us all, which makes it essential that we analyze our behavior as the basis for reducing the impact we have by improving our production methods.
Sustainability is central to everything we do
Even as a craft-based SME, we have environmental responsibilities and a role to play in protecting and conserving our planet. In recent years, we have focused our efforts at every level of our business to minimize the amount of waste we produce, contain our carbon footprint, offer high-quality sustainable products, and use recycled and/or renewable materials wherever possible.
We also listen to our demanding customer base, because our customers expect eco-designed solutions from a luxury goods supplier like ourselves. They pay very close attention to our working practices and how we make a practical contribution to protecting the environment.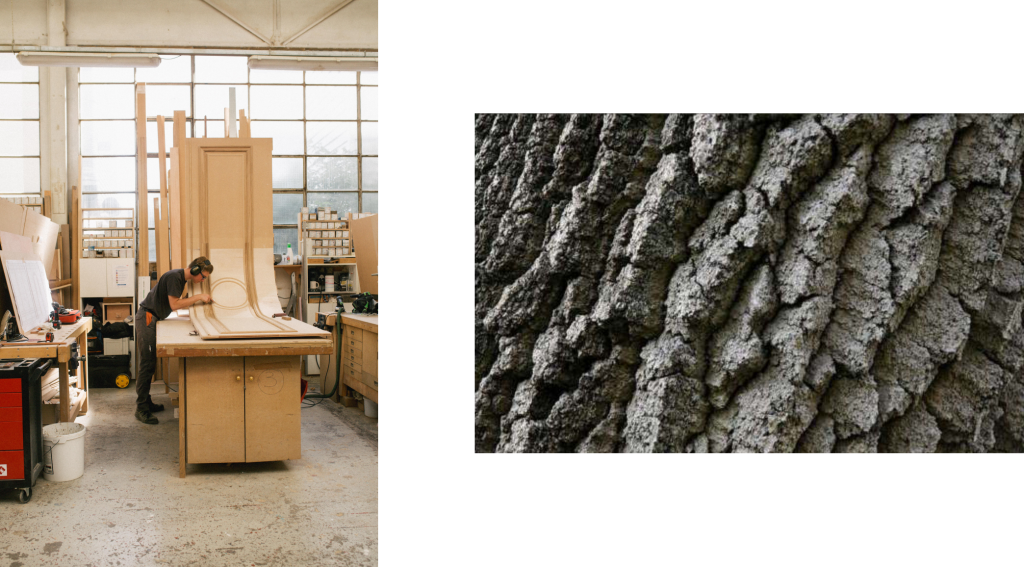 So how can we reduce our carbon footprint?
We design and fabricate all our cabinetry and decorative panels in our Carrières-sur-Seine studio workshop. Having our own facilities in-house gives us complete control over every stage of production, at the same time as protecting our specialist expertise and skills. Just as importantly, it minimizes the number of journeys we have to make to and from our subcontractors, helping us to reduce traffic pollution and consume less energy from fossil fuels. When we do have to involve subcontractors in producing certain special components, we work exclusively with local French companies located close to our studio workshop.
We are also careful to select suppliers from France and other European countries that have the ability to comply with the environmental requirements we place on raw material supplies. For example, we work only with solid French oak sourced from sustainably managed forests in Burgundy, because only these can deliver the extremely high level of timber quality we need to ensure finished product perfection.
And despite the fact that our decorative panels are exported all over the world, we choose the most eco-friendly delivery methods, preferring river, sea and road transportation to air freight.
Developing our production techniques to reduce environmental impact
Unlike traditional foundry techniques, which require high levels of energy in the form of heat, we work all our metals – bronze, brass, copper, zinc, tin, etc. – cold. The results and aesthetic appearance of both processes are similar, but cold working uses far less energy from fossil fuels.
To make our panels lighter, we have replaced more than 60% of the metal previously used with an aerated mineral filler that halves not only their weight, but also their carbon footprint in transit.
Protecting the environment also means embracing sustainability. So we work with products of extremely high quality to guarantee that our decorative panels deliver guaranteed high levels of mechanical strength over time in terms of dimensional stability and resistance to impact, UV, heat, abrasion, etc. We are constantly on the lookout for new products (panels, resins, fillers, varnishes, lacquers, coatings, etc.) that originate from recycling and/or waste recovery, as well as renewable and bio-based products.
CLOSE-UP on the development of a bio-based material
Our R&D team is currently working on a bio-based decorative panel as an alternative to our existing Gold patinated brushed brass product (Photo #1), which has traditionally been produced using a synthetic (petrochemical) resin and varnish mixed with metal powder.
Still in the research phase, the new finish (Photo #2) delivers an identical aesthetic appearance, but is 97% made from bio-based products (the underlying panel is made from forestry waste mixed with vegetable oil, contains 0% formaldehyde, uses an algal-based coating, plant pigments and vegetable wax-based hydro lacquer). At Ateliers Muquet, we see this is an exciting challenge, and one that reinforces our commitment to offering more environmentally responsible materials and finishes in the luxury goods market.

Treatment of our production waste
Bespoke growth-based production is one of our most important core values, limiting, and sometimes even completely avoiding, the need to hold stocks of perishable products and raw materials, as well as unsold finished pieces. We consume only what is absolutely necessary for production, and therefore generate very little waste. The waste we do produce is recovered for processing by specialist companies. It is then either repurposed (offcuts of solid timber and panels are processed into biomass or particleboard), treated, decontaminated or recycled (containers, packaging, product residues, etc.).
But genuine environmental commitment goes further than simply producing decorative panels from PEFC timber or using recyclable plastic packaging. It must encompass every aspect of production, from the origin of the raw materials used to the end-of-life processing of the piece, including their renewability and recyclability, the energy needed to process and transport it, the durability and repairability of the materials used, and lastly, the quantity of waste produced. Although free from many of the problems that confront large-scale manufacturers, Ateliers Muquet is nevertheless committed to a continual process of reducing the environmental impact of its products and processes in all these areas.
See all of our other projects on our website and social media accounts.
#meeting #event #tradefair #tradeshow #paris #art #creation #design #materials #texture #furniture